Ostrava air!!! Thematic discussion for the general public

Air Quality

Governance
For the second time this year, Ostrava will host a "green" debate, as part of the series of debates entitled "Evenings with Scientists"; this time, it will focus on air quality. The discussion, entitled "Ostrava air", will take place on Friday, April 27 at 5:30 pm in Pant, a cultural centre. Admission is free. The participants include Dr. Jiří Bílek (VŠB-TUO), Dr. Martin Tomášek (OU) and Tomáš Macura, the Mayor of Ostrava, with Petr Pánek as the host.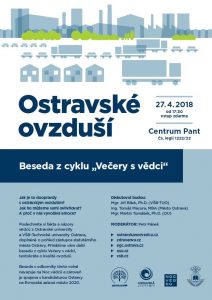 How is the real situation with the Ostrava air? How can we personally influence it? And why does it make us so emotional?
"Meeting with the public is very important for the city's current administration. It gives us the necessary feedback. Even though air quality in Ostrava has been consistently improving, there is still a lot of space for further discussion. Questions and comments from the city's residents can provide interesting feedback. The meetings are also a great opportunity to clarify our decisions and to introduce new upcoming projects that will bring further air improvement", said Tomáš Macura, the Mayor of Ostrava.
Bad air quality in Ostrava is due to several factors: industry, transport, local furnaces, cross-border transmission of pollutants, fugitive emissions (generated by swirling of existing pollutants) and Ostrava's geomorphology. The city is situated in the Ostrava Basin and often gets covered by a smog "lid".
"Air quality is a very hot topic in Ostrava, but we believe that thanks to experts we are able to look at this issue from a new perspective. In addition, as an educational institution, we feel obliged to participate in public debates, as our experts have much to say about such topics", added Adam Soustružník, the spokesman for the University of Ostrava.

"Our educational activities include public awareness raising in various fields, and air quality in Ostrava is a subject of long-term focus for many of our experts. We consider the discussion as another opportunity to tell the citizens that our university's projects do not only include air quality monitoring, but also a number of solutions to improve it", said Petra Halíková, the spokeswoman for VŠB-Technical University of Ostrava.
The discussion with experts is loosely related to the Night of Scientists.