Don't Be LAMA, Be Eco-Friendly

Candidate for European Green Capital 2020

Energy Performance
Ostrava held a contest for children from Ostrava elementary schools called Don't Be LAMA, Be Eco-Friendly. This event is a part of Ostrava's candidacy for the European Green Capital 2020. The children's task is to make a video spot or presentation, slideshow or animation on one of the published topics. The two winning schools will receive money for the modernization of the school's buildings. Other prizes include outdoor cameras, tablet computers, scooters and a contribution towards a trip for the whole class.
Five-member teams from Ostrava elementary schools will compete with the video spots made on an ecological topic.
The competing teams with a maximum of five children will make video spots on the following topics:
My homemade recycled product.
Using products easy to produce and easy to recycle.
What would EkoLAMA never do?
The best eco-friendly advertisement not only for LAMAs.
What would an ideal world look like if people were not lamas and cared for the nature surround them?
I am not LAMA, I do not waste.
The two best teams will win the elaboration of a feasibility study for complex building restoration with the aim to apply other energy-saving measures and technologies in the spirit and ideal of the "smart building" concept. The study will also include evaluation of the current condition of the subject building; a proposal of technically feasible measures, including an estimate of required investments, calculation of the efficiency of the measures, time schedule of works and possibility of their coordination with respect to the needs of education. Preparation and implementation including financing of the proposed measures will be the task of the statutory city of Ostrava.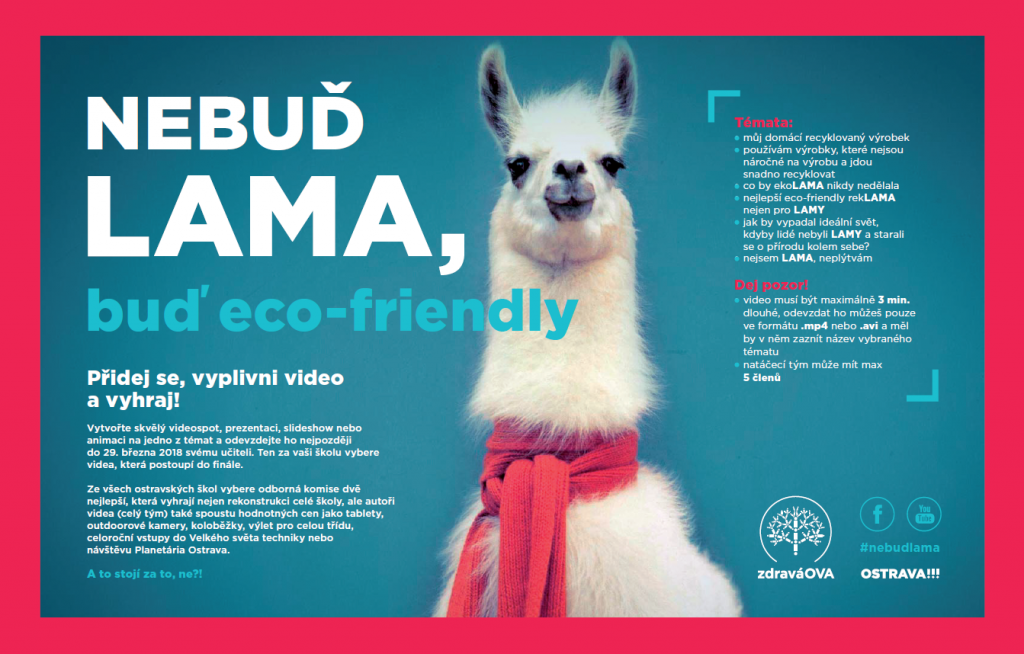 Based on specific possibilities, the school reconstruction will always concern, for instance, the heating system and its regulation, upgrading of the lighting system, ventilation or air-conditioning systems to achieve higher comfort during education, implementation of acoustic measures, establishment of appropriate renewable energy source, charging points for electric bikes, system of rainwater intake for further use, for example, in demonstration irrigation systems or general maintenance of a favourable microclimate around the school in summer and other smart solutions.
Videos will be evaluated both by a jury and the public by voting on the Facebook profile https://www.facebook.com/NebudLamaBudEcoFriendly/.
The contest can be participated in by any elementary school in the territory of Ostrava established by the city and residing in buildings owned by the city. They may send as many as two videos. The closing date of the contest is Thursday 29 March 2018.