Unlimited Wi-Fi and New Application for Public Transport Passengers in Ostrava

Sustainable Urban Mobility
The passengers in the Ostrava Public Transport Company (DPO) can now connect to the Internet via a free and unlimited Wi-Fi network. The only requirement is to install the MojeDPO application for free, which also offers many other features.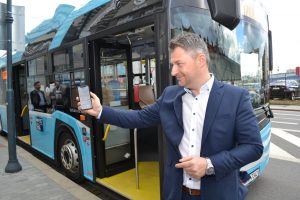 Exact position of the passenger, nearest public transport stop, all connections and transfers, real-time display of the nearest connections and their current location, DPO news, the possibility to buy tickets online and download timetables for off-line mode. All this is offered by MojeDPO, the application of the Ostrava Transport Company, which has been tested for the last six months by thousands of volunteers.
"We are not the first transport company in the Czech Republic to offer Wi-Fi internet access for passengers in vehicles. However, we are the first transport company to come up with such a comprehensive application, which we will continue to develop according to the needs of the passengers", said DPO's director Daniel Morys.

"I am pleased that DPO continues to improve its passenger services. The extension of Wi-Fi and the introduction of a new application is the next step in building the most modern city transport company in the Czech Republic.  The transport company has proven its ability to innovate for example by the breakthrough and very successful method of card payment with tariff optimization in vehicles, as the second city in Europe after London", emphasized Mayor Tomáš Macura.
Launching the MojeDPO application is part of a large-scale fleet digitization project, which is unparalleled in the Czech Republic. The Wi-Fi communication units also ensure communication between individual vehicles and also between DPO vehicles and the infrastructure.
"This means that every tram, bus or trolleybus transmits up to one hundred different technical data every second. This in turn leads to better information about the entire fleet and in turn to better service, defect prevention and overall reduction of operating costs", said Daniel Morys.