The Norwegian-Czech "Smart City" Workshop Took Place in Ostrava

Energy Performance

Governance

Sustainable Urban Mobility
On Tuesday, December 11, the New City Hall hosted the 4th year of the Norwegian-Czech "smart city" workshop called "Strategy and Infrastructure of Smart Cities in the Czech Republic and Norway".
This year, the regular event of the Norwegian Embassy was, for the first time, co-organized by the City of Ostrava.
In addition to experts and official representatives of the Norwegian city of Fredrikstad, which is a "smart city" leader in Norway, the conference was also attended by the representatives of a number of city and regional institutions and companies.
They shared experience in clean mobility, sustainable urban energy, smart management, strategy building and data collection.
The first part of the agenda focused on the visions of both cities and their approach to ensuring sustainability. The afternoon block focused on concrete examples of smart solutions in terms of innovative companies based in Ostrava, their products and possibilities of integration into everyday life. The event was beneficial for the attending professionals as well as for the wider professional community.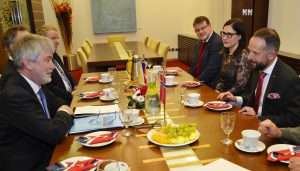 The workshop was attended by H.E. Robert Kvile, Ambassador of the Kingdom of Norway, Jon-Invar Nygard, Mayor of Fredrikstad, and Tomáš Macura, Mayor of Ostrava.  In addition to the Norwegian Embassy and the City of Ostrava, the workshop was supported by other partners, namely the Moravian-Silesian Region, Tieto Czech and Marine Harvest.